I have always liked using stencils and playing with embossing paste.  So this was a fun day for me.
I have a really bad head cold, so if I make a ton of spelling errors and write out strange sentences, forgive me.
Here are the tags from this day
Distress Layered Collage Technique
This one was more fun than I thought it would be.  It was very relaxing just pasting the images onto the cardstock.
For the card I decided to do a camping theme.  I had the camping Ephemera so I thought it would be fun to do a card using them.
Texture Paste Coloring Technique
This was fun one.  I could have done this all day.  It was exciting to see all the different colors exploding on the background.
For the card I used my new starfish stencil.  This picture does not do it justice.  I painted a tiny starfish from the mini blueprints and added some fun do dads.
Texture Paste Embossing Technique
If I can use GOLD on anything I am happy.   I really liked using the paste with embossing powder.
For the card I used a leaf stencil and used the leaf stamp and die cut to make the rest of the card.
You cannot see the gold very well in this pic, but this close up shows the shine.
Texture Paste Resist Technique
This was such a cool technique.  I love the tile look.  I decided to use dark colors instead of the Picket fence.   It was such a colorful print the white just did not show up.
For the card I used some paper I had in my stash.  I cut the border out to make a frame and used one of the prints to make a mosaic for the middle.  I thought it came out really cool.  This was one of my favorite techniques.
Distress Grit-Paste Grunge Technique
This was an interesting technique.  I think it was kinda fun and grungy.  But the best part of this Lost Relative card, is that the dog looks like my Penny.
Just sayin!
I decided to do the snow technique for the card.  It really does look like snow.
thanks for looking at my creations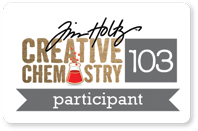 You can follow any responses to this entry through the RSS 2.0 feed. You can leave a response, or trackback from your own site.