I am a huge fan of Tim Holtz products.  I love the distress line and the many things I can do with it.  I learned a lot in his Creative Chemistry 101 and 102.
It was nice of Online Card Class to re-open the two older classes to allow people to relearn or sign up for the first time the other two classes.
There are so many techniques I would highly recommend that anyone take these classes.
My one complaint is that the class length should be two weeks instead of one.  There are so many techniques to learn that is is impossible to keep up.
It is Day Four and I just finished Day One tags and cards.  Maybe I do too much, but I really wanted to practice these techniques!
Oh well, onto the tags and cards.
Here are the tags for the five techniques.
Distress Ombre Effect
I loved making my own ink pad.   I was so excited when I brayered that color on the lid of the ink pad.   Soooo pretyy.  Nicer than I thought it would be.
I wanted a sunset color so I used Mustard See, Spiced Marmalade, Abandoned Coral and Seedless Preserves
 .
I used the Tim Holtz Butterflies to do the ombre effect.   I had to rotate the stamp three times as I worked my way down the tag.
I got a little carried away with the card.  I was using a new watercolor pen and it became obsessed!
Distress Highlight Stamping Technique
I had such high hopes for this one.   The first stamp set did not have enough "body" to make it stand out.
So for the card I used a solid stamp.  Geez it took me forever.
Then it needed something and I splattered it with paint.
Now listen to me CAREFULLY!   Practice first before splattering your project.
As this will happen to you!!!!
So we add some Nuvo drops on the card hoping you will not see the big brown blotches on the card.    LOL
Distress Off-Set Stamping Technique
I liked this technique as it does remind me of antique cards
I used a older stamp set from Flourishes.org    I was happy to see they reopened their shop again.  They made the prettiest fruits and flowers.
Distress Washed Watercolor Technique
I really like the Micro Glaze.   Way cool.  I had not heard of it before this class.  Oh that Tim Holtz is always bringing us something to new to play with
Now for a little colorful shell
I made the ribbon by using the same inks that I used on the card
Distress Micro Glaze Resist Technique
This one was a challenge as I did not have a lot of spray to choose from, but I liked the green and blues.  Reminds me of the ocean.
I had fun with this card.  I cut the tag into sections and used come glitter in-between the panels.   I had this mermaid stamp set forever and never used it.   It is hard to see but I added shimmer to the mermaid.
Well this was a good day one class.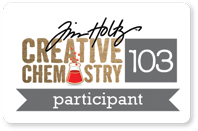 Posted in Word Art Wednesday Anything Goes Challenge #242-243
You can follow any responses to this entry through the RSS 2.0 feed. You can leave a response, or trackback from your own site.