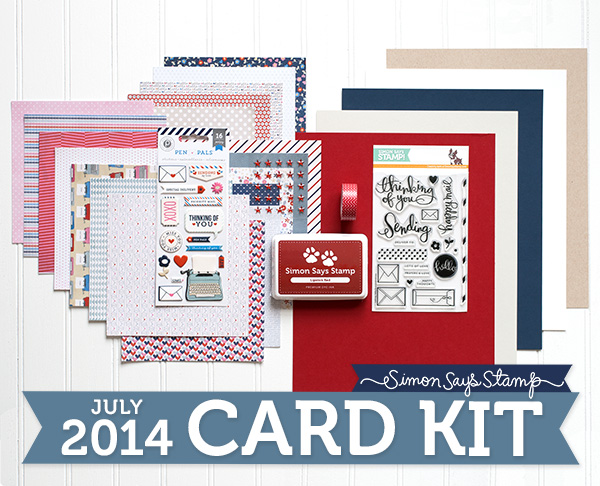 I have been trying to catch up with old card kits.   I am on a roll, but I keep finding boxes that I have stashed away in interesting places.
I really like this card kit.  I like the red, white and blue color theme and the stamp set is just inspiring!
I made SIX cards with this kit.  I think I could have made more, but there are stacks on boxes to go thru.   I am sooooo behind!
To start with, I wanted to dive into the color theme.  I made a simple card that really focuses on the colors.
The next card is also a simple design.  I loved this pattern paper and really wanted it to be a major focus on the page.  I pulled out my favorite large word die from Simon Says Stamp.  This HELLO die has been on several of my cards and I just love it.    I die cut several "hello" and glue them together to give it thickness.   Whenever I do this I think it looks just like a Thicker chipboard word.
For this card I wanted to use some of the puffy stickers that came in the kit.  I die cut the typewriter print paper with a postage stamp die frame.  Which just pulls the whole "Mail/Typewriter" theme together on this card.
To continue the mail theme, I colored in a Tim Holtz crazy bird.  I even cut a slit in card to slide an envelope under his beak.   I used Glossy Accents on his eyes to give him some extra dimension, but I don't think you can see it very well in this picture.   I copic colored the envelopes to change the color of the paper to match the bird.   I really like this bird.   I know this bird will be back!
I decided on this card to pull away from the mail/envelopes/color theme and do something different.  I used an embossing folder that gave this great dimension on the paper.  It is simple, yet elegant.
My final card, and my favorite card started out as a mistake.
I was trying to make stripes and they looked funny and awkward.  So I blended it all together and it started to look like a sunset on the ocean.
I added some black foliage on the bottom.  It looks so serene I decided to make it a somber card that I can send to someone having a hard time.
I hope you enjoy looking at my creations.
Posted in Simon Says Stamp Wednesday Challenge – Anything Goes
You can follow any responses to this entry through the RSS 2.0 feed. You can leave a response, or trackback from your own site.