Ok I am guilty.  Very Guilty.   I am guilty of "buy the kit and do nothing with it – itis"
I subscribe to the Simon Says Stamp monthly card kit.   And the kits just sit in their boxes.  Sad little brown boxes, just wanting to be made into fantastic cards.
So I decided to get off my butt and commit to making at least 5 cards from one kit.  So grabbed the current kit, the June 2016 kit.  To be honest I was not that thrilled with the colors of the kit, but I loved the stamp set.  I also loved the coloring cards.   I have to admit,  I am seriously crushing on Suzy Plantamura and her adorable drawings.  I actually went to Simon Says and bought the sets.  Here is her newest one.
Doesn't this make you want to sharpen your colored pencils.
Ok, to get back on track.  Here is the kit for June 2016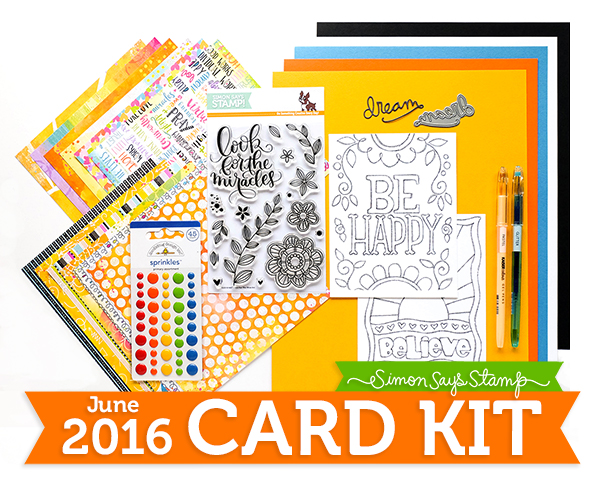 So my first two cards are made from the cute coloring card fronts from the kit.  It was  great paper to use copics on.  On a side note, I almost have all the copic colors.  I have been collecting them for a long, long time.  I just wish there was a better storage solution.  I did check out Sandy Allnock's post on copic storage and it did give me some ideas.   You can check out her post here.  I am seriously thinking of the new suitcase, but back to the cards.
Besides using copics, I used a white gel pen to add some dots.
I decided to make this a shaker card.   The body of the sun was just begging to be made into a shaker.  I also used some zig glitter pens to the sun rays, you can see it better in this closeup.
Next I wanted a card that has some elegance.   I decided to emboss on some gold vellum with the new Simon Says stamp Rose Gold Embossing powder.   I also used the same embossing powder for the "dream" die cut.   The glitter strips were from Anita's 3D Border Glitterations.  She has some cute stuff and I thought this puffy glitter strip was just perfect.   I recently went to the CKC Expo in Mesa Arizona and found some orange colored Twinkle Goosebumps that matched perfectly.
For my next card I wanted to use the Look for a Miracle stamp.   I water colored the card front with some pinks, green and yellows.
For my final card I wanted to use the pretty rainbow type paper, but I could not think of design that was not overwhelming in colors.   I finally decided to do a die cut that showed the pretty color underneath.  I actually like how this card came out.
I hope you enjoyed my cards.   I really enjoyed challenging myself to come up with some designs.
Posted in the Simon Says Stamp Wednesday Challenge Blog
You can follow any responses to this entry through the RSS 2.0 feed. You can leave a response, or trackback from your own site.