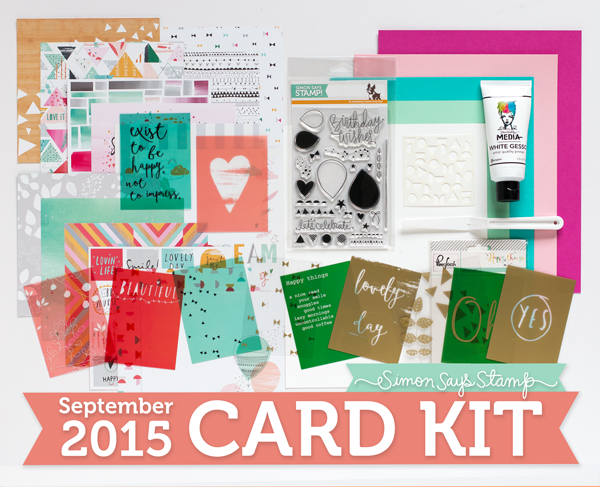 I am woefully behind in my Simon Says Card Monthly Kits.   I love each one but get so distracted by everything else in life that I never get around to making the cards.
So I grabbed out two cards kit (one being September 2015) and started to create.
One of my goals is to push myself and try something different, either a technique or a style/look.
I usually check out what others had done to make sure I am not "creating" something someone else posted.  LOL,  done that before
I was taken by the wood grain with the white triangles.  I love that look.   I decided to continue to design by adding gold embossing in both the triangles and the sentiment.  My Brother in Law said it looks like my scraproom floor.   Wood floor with scraps of paper on it.   LOL.    The card front is attached to gold foil.
This time I went Silver.   This card looked so wedding, special event to me.  The paper was grey with white florals.   I made a vellum die cut and then drew on the edges with a versamark pen and embossed in silver.  I also edged the sentiment banner.
This time I went for a different look.  When I saw this paper it reminded me of the currently popular adult coloring books.  So I decided to color it myself.   Or as I said to my sister, I am channeling my inner Laura Bassen (with the rainbow colors)
Then it dawned on me that the stamp set was all about balloons.  Opps.  then I focused on those for the next two cards.
I did this card using pastel distress inks.  I wanted it to be light and carefree.
I told myself I needed to use the white gesso that came with the kit.  Using the stencil I covered watercolor paper and then once dried I painted it with Peerless Watercolors.  I then decided to do a shaker card.  I love those sequin bags from Lucy Abrams.   They have the coolest shapes and colors.  That woman has an eye for color.   Even after adding a shaker to the card it still looked a little bland.  So then I decided to use the balloons (smaller size) to the bottom.  I used black sewing thread stiffened with matte medium.
So there is my creations for the Month of September!!!
Thanks for looking!!!
You can follow any responses to this entry through the RSS 2.0 feed. You can leave a response, or trackback from your own site.