This challenge is to create a bouquet using more than one stamp set.   I dragged my feet on this one because most of my papertrey ink florals are the Year of Flowers and they tend to be way too big to mix and match.  But I did find two sets that I thought would work out ok.   Meadow Greens and Day Dreamer.  The flowers were similar size and I knew I could use different parts to create my card.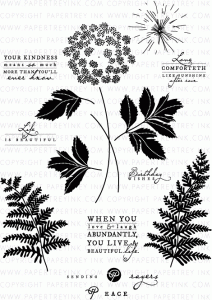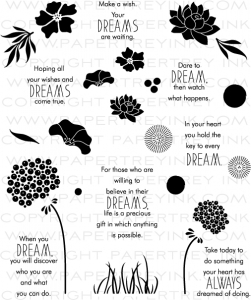 So I build the floral background but found the white space a little offending.  I needed to make it look more seamless and decided to use distress ink to blending in the different colors.  I really like how it coordinated with the Papertrey Ink inks and I was very pleased on how it came out.
Because I could not leave well enough alone, I also used my pico embellisher to add white dots and copper dots.   I swear ferns have those little dots on the leaves.  Then I remembered it was under the leaf.  Oh well.
But actually I really like the card!
Supplies:
Neenah Solar White Cardstock
Papertrey Ink Meadow Greens Stamp Set
Papertrey Ink Day Dreamer Stamp Set
Wency Vecchi Fern Green Embossing Powder
Papertrey Ink Inkpads:  Autumn Rose, Summer Sunrise, New Leaf, Ripe Avacado, Canyon Clay, Scarlet Jewel, Limeaid Ice, Berry Sorbet
Distress Inks: Tumbled Glass, Shabby Shutters, Worn Lipstick, Spiced Marmalade, Picked Raspberry
irRESISTible Pico Embellisher in White and Copper
You can follow any responses to this entry through the RSS 2.0 feed. You can leave a response, or trackback from your own site.